---

Well, it's finally done! Lonely Soldier Boy ll, an acoustic album is available for sale
[Click HERE to order from the Store]
. This album is definitely a labor of love...for the true fan of Robotech music. I've talked about this CD for so long now, that I'm not going to say too much about it.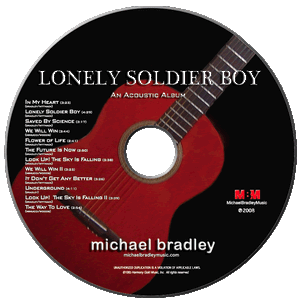 Ross Leitner did a great job of engineering and co-producing this work with me. I appreciate his patience with this project. I had no idea it would be so difficult to make a record with so little instrumentation. It was actually much more difficult than my first, fully produced and arranged Robotech remake CD. There's an old saying that "less is more," but it seemed like every recording session became an exercise in futility...because some of these songs needed MORE than less (uh...I hope I'm making sense).

Anyway, there are a couple of tunes that have more complex arrangements than others, but it's all acoustic, so we met our goal. I added two songs from Robotech The Movie (Saved By Science and The Future Is Now) that I had written and produced (with Steve Wittmack) but did not sing in the original versions. They were originally sung by Joanne Harris. Those two, plus Flower of Life and Underground (which was originally a male/female duet) definitely made me feel more like Yellow than Lancer! :0) The high note in the middle of "Flower" was a bit of a test, as was the bridge in Underground. Probably the last time I'll sing songs originally meant to be sung by a girl! Although I WAS thinking about doing a remake of "Feel Like a Woman" by Shania Twain...but maybe I'll save that for my next project. :0)

Thanks to the fans and friends out there who pre-ordered the CD! Those that pre-ordered before the printing deadline (Nov 15), your names are actually printed in the CD insert. We were going to go in alphabetical order, but decided to put them in the order that we received the pre-orders. I appreciate the support! We got some orders from some members of the military stationed in Iraq...and I just want to give a special thanks to them and send my best wishes for a safe return home...soon!

I want to give my heartfelt thanks to my new website administrator and long-time friend, Vivian Lanza for all the work she has done. Just incredible. If it hadn't been for her, this latest CD still might not be done. I cannot thank her enough. Her help has been immeasurable and I will be indebted to her forever. Thank you so much, Viv!

As for other projects, I have been swamped with work for other artists, as a player and/or producer. The bulk of my time the past few weeks has been preparing for a live show for a wonderful singer/songwriter from Brazil.


 

As I've mentioned in a previous blog, Haikaa was produced by my collaborator, Ross Leitner, and I was hired to play all the guitars and do some arrangements. I ended up becoming deeply involved in the record and am now her musical director, although Ross is more or less running the rehearsals, since it was his baby to begin with, when we go on the road, I'll be taking over the reins. We auditioned a lot of great players for the group, and ended up with some real pros.

We're in rehearsals every night (and some days) and will be shooting a promotional video of the live performance in a little over a week...and there's a ton of work yet to be done. Besides playing guitar, I will be singing with Haikaa also. She is a real joy to work with and I am thankful to be included in her plans.

She will be returning to Brazil at the end of the month to start plans for a tour...hopefully we'll be out on the road early next year. We may just start with a few dates in the LA area...but everything is still up in the air, so we'll see!

l'll also be writing and recording with another previously mentioned singer, Erica Shine, this month. We had done two songs earlier in the year and they turned out great, so we'll do one more before the end of the year. Erica plans on presenting these songs at the Midem music tradeshow in Cannes, France sometime in January.

I'm glad I had a little time to check in with everyone. I hope you guys enjoy the Robotech acoustic album.

Thanks again to Ross, Viv and all you guys out there who already ordered the CD! They were shipped yesterday...I'd love to hear what you think about it.

OK...I'm out.



mb